Target Users
who want to use GAS(google apps script)
who need paid leave management system but not prepared it
who want to perform paid management at zero cost
who have built an internal system centered on GAS
Scope of user Level for subsequent articles
This implementation of subsequent articles uses not only the implementation in the spreadsheet but also the GmailApp class and other G-Suite classes. For this reason, hurdles are a bit higher for beginners.
However you overcome subsequent articles, you will leach and get following skills:
– work flow like system construction by GAS
– can be used continuously such as cooperation with Slack
I hope you try in early days for improving GAS skills and achieving something to complete implementation.
Gaol Image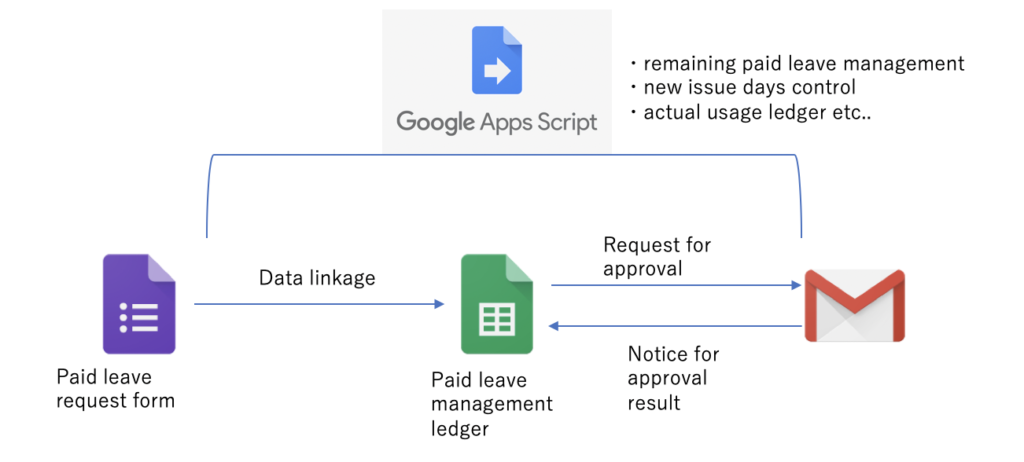 The outline is based on the above flow. In addition to this, GAS will be used for notifications in Slack and creation of personal details in the paid management ledger. Several spreadsheet functions are also used in the management ledger.
I think that versatility will be reduced if creating too much and restrictedly, so there are some parts that are simplified. In addition, the details of each individual in the final management ledger (base date, number of paid leave days, number of remaining paid leave days, indication of daily acquisition of paid items, etc.) are displayed only for the minimum required items.
In addition, we plan to create a report function for senior management at the end, such as displaying the status of paid acquisitions and displaying a list of non-achievers who must acquire 5 days(*1). For Slack notifications, we assume a function that sends a mention every month to those who have not obtained enough days, rather than an acquisition flow.
(*1) in Japanese Labour Standard act request companies to use paid leave for employees.
As a prerequisite, we plan to use the statutory lower limit for paid days granted. Acquisition can be carried out in half-day units (half-day is calculated in 0.5 days).
Therefore, if each company uses standards that differ from the above assumptions, make adjustments separately.
Finally,
This system was introduced as part of work style transformation to promote paid leave acquisition, but this system may increase the work load of HR-related departments. In particular, applying and managing on paper will be an excessive workload
The GAS can be used to improve business efficiency and support the system implement by zero cost. This case is very compatible with GAS.
However, please keep in mind that implementers will have to get used to GAS and take time to implement.
連載目次: GASで有給取得申請管理